World Air Passenger Service Co., Ltd.
HOME(JAPANESE) > Service & Company
Multinational people especially from Asia
are working together in Kansai International Airport!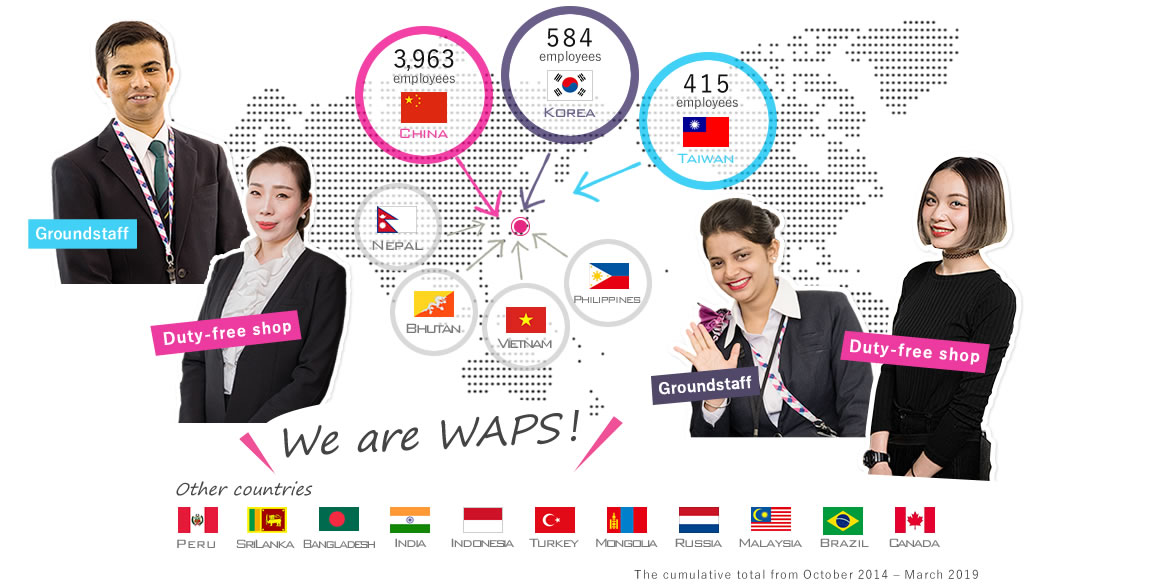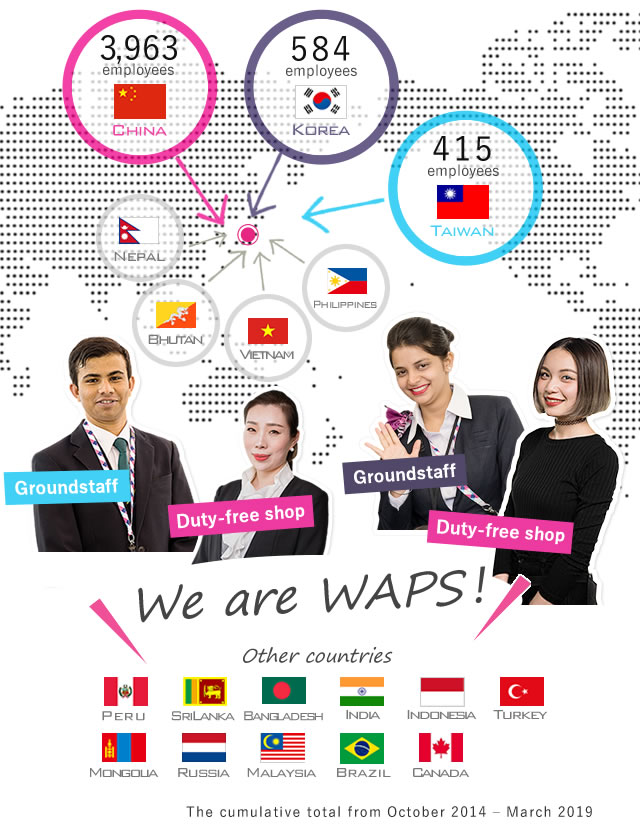 The advantages
of working for WAPS
Utilizing your language skill
Being able to learn hospitality skill and mind of Japan
Working at the international airport known as a doorway to the world
Job description
Many of our multinational staffs are working in various jobs that we offer utilizing their language skills.
We provide various locations of work and jobs. Because we have choices, staffs can always find the job which suits them the best.
[Job opening types]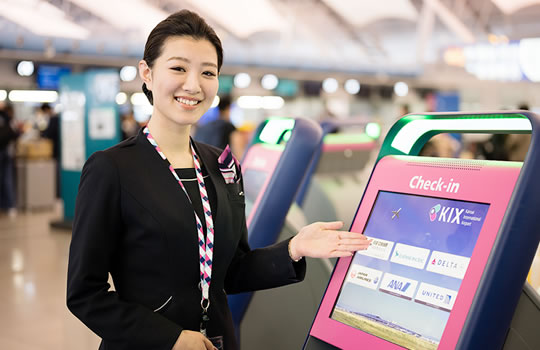 Ground staff

Providing tickets to customers, weigh their luggage to check in, assisting the passengers to the gates and making announcements are the most well-known duties that ground handling agents do, but there are many more duties that they provide to our passengers.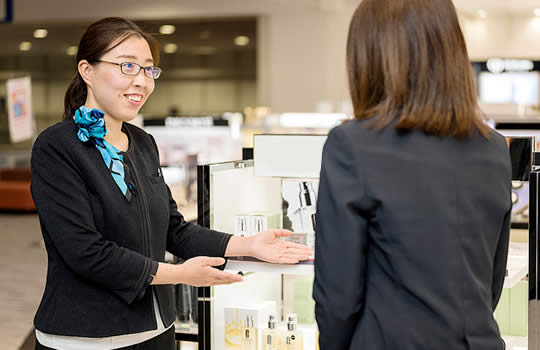 Duty-free shop

Providing various services and assistance utilizing the language skills to not only Japanese customers but also customers from all over the world who use duty-free shops and brand shops in Kansai International Airport.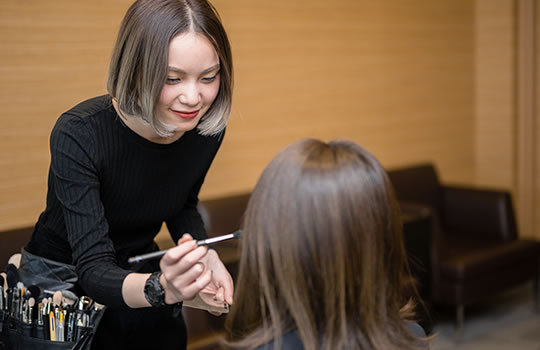 Cosmetics sales

Proposing the high-quality trends of make ups and explaining the use of the products.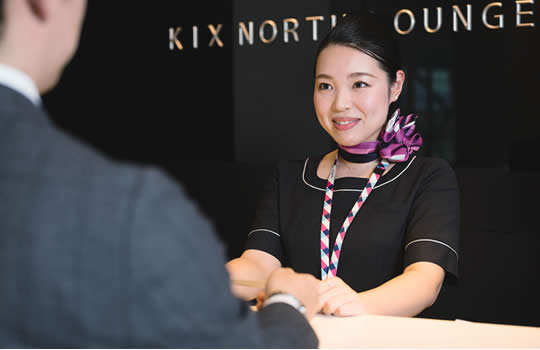 Lounge staff

Providing the relaxing time for VIPs and business class passengers before their journey in the airline lounges and card lounges.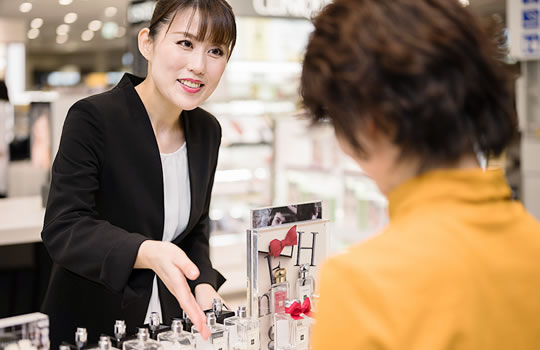 Promotion

Promoting the perfumes, cosmetics and skincare products in front of the airport duty free shops to promote the items more effectively in more proactive way.
WAPS offer the staffs
security and reassurance
Over 5,000 staffs from all over the world are working in the international airport as a WAPS staff. Most of our staffs will be able to find colleagues from their homeland whom they can ask for help or talk to.
And of course we will be there for you anytime you need our help.
WAPS also provides Japanese language training as well as service training in order to assist you to gain confidence in working in Japan. Working VISA will be sponsored by WAPS without charge. Our support has been garnering immense praise.
01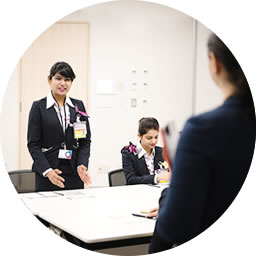 Japanese language training

Not only the language but also the customs and manner will be taught in the training. All the training meets the needs of the real job sites.
02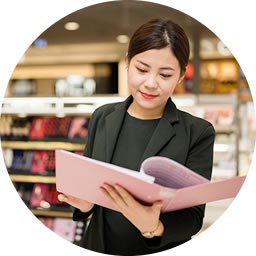 Fulfilling
training system

As well as the sales training and the language training, OJT will be provided to ensure the knowledge and skill.
03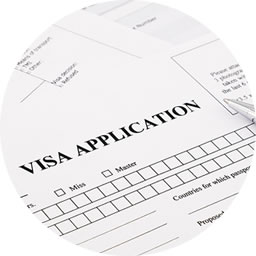 Supporting
the working VISA

WAPS sponsors working VISA without charge. Out staffs can start their life in Japan smoothly.
04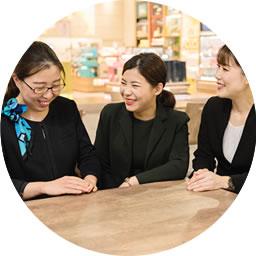 Talking in
your mother tongue

Staffs will be able to find colleagues who are from their motherland to share information to support each other's life in Japan.

Japanese Language Training
Training will be taught by the instructors who have rich experience in aviation industry. You will be able to learn not only the language skill but also Japanese hospitality mind.
We more focus on real job site experience than grammar and structures.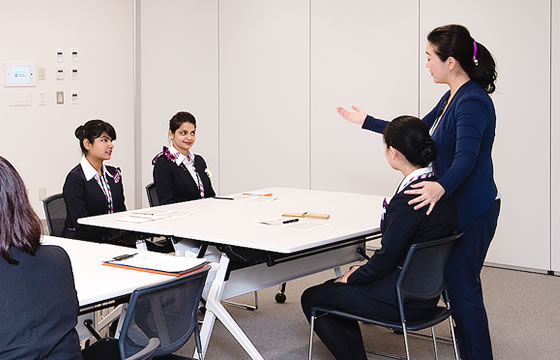 Voices from staffs
Providing sincere hospitality at the international and multicultural environment.
Messages from staffs to you who are looking for job opportunities
Frequently asked questions
What kind of person is the most suitable for working in the airport?

The airport is used by people from all over the world every day. We are looking for someone who enjoy communicating people with various backgrounds.
I'm worried about the accommodation since I'm not very familiar with Osaka nor around Kansai International Airport.

We can provide a company dormitory if it's available, however if the dormitory is full, we will support you finding one.
I have never worked in the airport. Do you have an initial training?

We provide business manner training as well as polite Japanese expression training (Keigo) as an initial training. Please be reassured as you will also be trained at the job sites for the skills and knowledge you are required.
What other allowances do I have apart from monthly salary?

We provide transportation expenses as well as overtime work.
Is there any chance for me to become a full-time worker?

It depends on dispatch destination, but there is a chance.

Vision
Aiming to provide the world standard service in all three major airports in Kasai area.
We do our best to provide the best safety, security and comfort to our customers at all times.
Our mission is to prove the most trusted and professional airport service in the world at Kansai International Airport, Osaka International Airport and Kobe airport.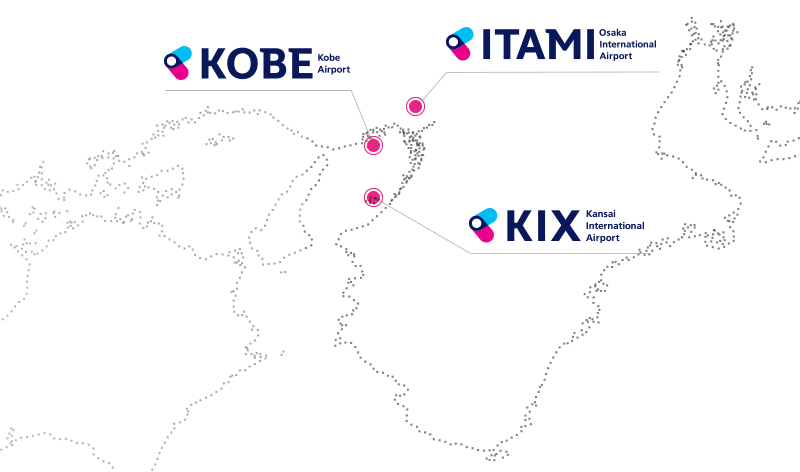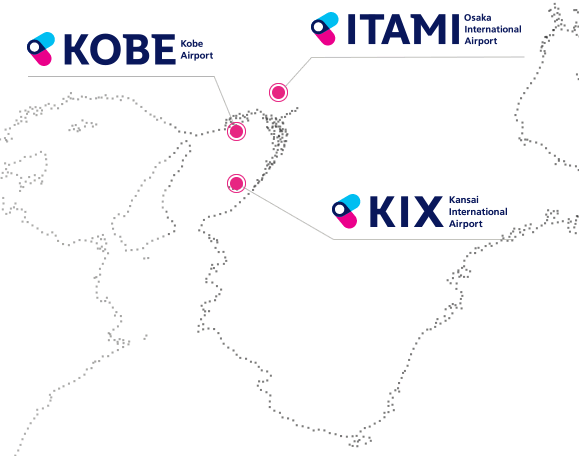 To be the world best airport service provider
We believe the experience in Airport is a part of a journey. It is our mission to strive to make its service innovative by having a wide perspective not only on airport operations but also the entire trip of our customers.
It is clear that stable safe and sound service will comfort our customers. We promise to reduce customer's stress as much as possible by providing the reliable service.

COMPANY
A member of Kansai Airport Group
We, World Air Passenger Service is a member of Kansai airport Group. Our group slogan as a Kansai Airport Group is [Shaping a New Journey]. We support our customer's new discovery and exploration.
Company name
World Air Passenger Service Co., Ltd
Date of Establishment
1st March, 1983
Capital
32,000,000 yen
Shareholder
Kansai Airport Co., Ltd 100%
Main business

1. Providing Air Passenger Services in Osaka International Airport,
Kansai International Airport and Kobe Airport
2. Labor dispatch project
3. Outsourcing businesses

Head office
3-555 Hotarugaikenishimachi, Toyonaka city,
Osaka Japan 560-0036
TEL : +81 6 6856 7240
Rinku office
11F, KAB Rinku Bldg., 3-7 Rinku-orai Minami,
Izumisano City, Osaka Japan 598-0047
TEL : +81 72 469 1744 
FAX : +81 72 469 1734